EU transport in figures Statistical pocketbook 2022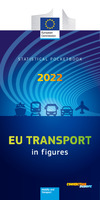 Author
Directorate-General for Mobility and Transport (European Commission)
Date
2022-09
Abstract
Transport represents a crucial sector of the economy. This publication provides an overview of the most recent and most pertinent annual transport-related statistics in Europe. It covers the European Union and its 27 Member States (EU-27) and, as far as possible, the current EU candidate countries, the EFTA countries and UK. As in the reference period (1990-2020), UK was part of the European Union, aggregates for EU-28 are presented whenever possible for the period when UK was an EU Member State. The content of this pocketbook is based on a range of sources including Eurostat, international organisations and associations, national statistics and, where no data were available, own estimates. Own estimates have mainly been produced to get an idea of the EU total. At the level of individual countries they are merely indicative and should by no means be interpreted as official data.
Number of pages
164p.
Language
English
Description
DOI 10.2832/216553
Catalogue number MI-AA-22-001-EN-N
Publisher
Publications Office of the European Union, 2022
Publisher place
Luxembourg
Collections
Related items
Showing items related by title, author, creator and subject.
Eurostat

(

EurostatBrussels

,

2022-10

)

Key figures on European transport presents a selection of key transport indicators. The first two chapters start with a presentation of transport measurement, providing information on the movement of people and goods by ...

Directorate-General for Regional and Urban Policy (European Commission)

;

Eureconsult

;

Spatial

(

Publications Office of the European UnionLuxembourg

,

2022-02-24

)

This case study report presents the business model for the cross-border rail service between Berlin (Germany) and Kostrzyn nad Odrą1 (Poland). This report is part of a series of 31 case studies developed in the framework ...

EU Commission

(

EU CommissionLuxembourg

,

1981

)

Les engu8tes sont effectu6es par!Undersfgelserne foretages af:Die Urnfragen werden durchgeftihrt durch:Le indagini sono effettuate d.a:De enqu6tes word.en uitgevoerd. d.oor:The zurveys are und.ertaken by:3 Institut du ...