Study on providing public transport in cross-border regions – mapping of existing services and legal obstacles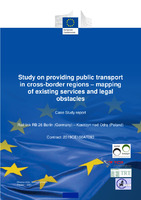 Author
Directorate-General for Regional and Urban Policy (European Commission)
Eureconsult
Spatial
Date
2022-02-24
View/Open
Abstract
This case study report presents the business model for the cross-border rail service between Berlin (Germany) and Kostrzyn nad Odrą1 (Poland). This report is part of a series of 31 case studies developed in the framework of the study 'Providing public transport in cross-border regions – Mapping of existing services and legal obstacles'. Spatial Foresight in cooperation with TCP international, TRT trasporti e territorio and EureConsult completed this study for the European Commission's DG REGIO. The case studies highlight a variety of business models for cross-border public transport services. This includes governance arrangements and operational provisions to develop the service and address demand in border regions. These aspects will be introduced in section 2, as well as the territorial scope of the service. Section 3 presents key obstacles related to the business model as well as solutions. Section 4 is about lessons learnt from this case. This case study presents the rail connection between Berlin (Germany) and Kostrzyn (Poland). It is an important German-Polish cross-border service which connects the metropolitan region around Berlin and the Polish network. This report emphasises different national legal and administrative frameworks and language barriers as key challenges when developing and implementing cross-border public transport services. This case study is based on publicly available reports and websites as well as interviews with experts from the regional transport association for Berlin-Brandenburg, Verkehrsverbund Berlin-Brandenburg (VBB) and Lubuskie Voivodship
Number of pages
21p.
Language
English
Description
DOI 10.2776/291121
Catalogue number KN-09-22-092-EN-N
Mapping of existing services and legal obstacles : rail link RB 26 Berlin (Germany) – Kostrzyn nad Odrą (Poland) : case study report
Publisher
Publications Office of the European Union
Publisher place
Luxembourg
ISBN
978-92-76-48775-3
Collections
Related items
Showing items related by title, author, creator and subject.
Eurostat

(

EurostatBrussels

,

2022-10

)

Key figures on European transport presents a selection of key transport indicators. The first two chapters start with a presentation of transport measurement, providing information on the movement of people and goods by ...

Directorate-General for Mobility and Transport (European Commission)

(

Publications Office of the European Union, 2022Luxembourg

,

2022-09

)

Transport represents a crucial sector of the economy. This publication provides an overview of the most recent and most pertinent annual transport-related statistics in Europe. It covers the European Union and its 27 Member ...

EU Commission

(

EU CommissionLuxembourg

,

1981

)

Les engu8tes sont effectu6es par!Undersfgelserne foretages af:Die Urnfragen werden durchgeftihrt durch:Le indagini sono effettuate d.a:De enqu6tes word.en uitgevoerd. d.oor:The zurveys are und.ertaken by:3 Institut du ...