Twenty-eighth Activity Report of the Monetary Committee.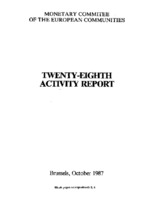 Author
Commission of the European Communities
Date
1987-10
View/Open
Abstract
The Committee held a total of nine ordinary meetings in 1986. An extraordinarymeeting was held at Ootsmarsum in the Netherlands in April in connection with ageneral realignment of EMS central rates and in August the Committee prepared arealignment stemming from the Irish pound. The Chairman reported five times tothe Ministers for the Economy and Finance on the results of the Committees work.
Number of pages
20p.
Language
English
Description
Blank pages not produced: 2, 4
CB-S0-87-S10-EN-C
Publisher
Office for Official Publications of the European Communities
Publisher place
Luxembourg
ISBN
92-8Z5-7757-O
Collections