Tenth Report on the Activities of the Monetary Committee.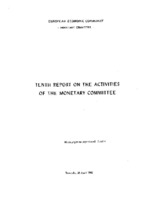 Author
European Economic Community
Date
1968-04-26
View/Open
Abstract
The purpose of this report is to give a brief account of the activities of theMonetary Committee of the European Economic Community during the past year.Apart from the tasks assigned to it by the Treaty, in particular that of followingthe monetary and financial situations in the Member States, the Committee thisyear addressed itself mainly to matters concerning the reform of the internationalmonetary system.
Number of pages
23p.
Language
English
Description
http://aei.pitt.edu/id/eprint/1296
Publisher
EU Commission
Publisher place
Brussels
Collections