Seventh Report on the Activities of the Monetary Committee.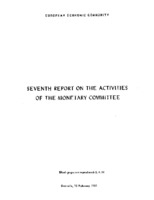 Author
European Economic Community
Date
1965-02-12
View/Open
Abstract
The purpose of this' report is to give a general picture of the activities of theMonetary Committee of the European Economic Community. The Committeeitself held twelve meetings in 1964, while the Committee of Alternates and theworking parties set up by the main Committee during the year to examine themonetary and financial situations of the member countries also met on a numberf occasions.
Number of pages
24p.
Language
English
French
Description
http://aei.pitt.edu/id/eprint/1295
Publisher
EU Commission
Publisher place
Brussels
Collections