Aide-memoire on the fixing of the ECSC levy rate and on the drawing up of the ECSC operating budget for 1990.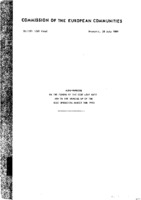 Author
Commission of the European Communities
Date
1989-07-28
View/Open
Abstract
As usual, the views of Par11 ament will be sought before the COmmission takes a decision on the levy rate ani the lD3C operating bldget for the financial year 1990.
Number of pages
118p.
Language
English
Description
Sections are bookmarked.
SEC (89) 1269 final
http://aei.pitt.edu/id/eprint/36153
Publisher
EU Commission
Publisher place
Brussels
Collections