Aide-memoire on the fixing of the ECSC levy rate and on the drawing up of the ECSC operating budget for 1983.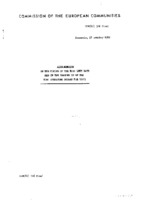 Author
Commission of the European Communities
Date
1982-10-27
View/Open
Abstract
This Chapter -summarizes the information needecl to set the draft ESCS operating budget for 1983 in its economic and political context.
Number of pages
50p.
Language
English
Description
COM (82) 706 final
http://aei.pitt.edu/id/eprint/36160
Publisher
EU Commission
Publisher place
Luxembourg
Collections