European Economy. Quarterly report on the euro area 2005.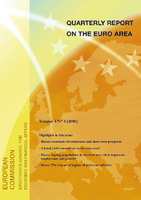 Author
Commision of the European Communities
Date
2005-04-01
View/Open
Abstract
Economic growth in the euro area is now gathering momentum, after moderating in the first half of the year. Estimates for the third quarter indicate that GDP growth is above potential, and leading indicators point to continued solid growth in the months to come. External trade continues to be an important driver of growth in the euro area. Exports in the third quarter expanded at the fastest pace since the end of 2000, reflecting buoyant world trade and competitiveness gains following the depreciation of the euro since the beginning of 2005.
Number of pages
44p.
Language
English
Description
http://aei.pitt.edu/id/eprint/94672
Volume 4 No. 4
Publisher
European Commission
Publisher place
Brussels
Collections