European Economy. Quarterly report on the euro area 2005.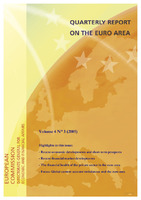 Author
Commision of the European Communities
Date
2005-03-01
View/Open
Abstract
Economic growth in the euro area slowed slightly in the second quarter of the year, reflecting stagnation in private consumption and continued sluggishness in investment spending. However, there are good reasons to be optimistic about the prospects for an acceleration in economic activity in the second half of the year. The pick-up in industrial production, the expansion in world trade and the strengthening of business confidence indicators in recent months suggest that the recovery is gathering momentum. This is also captured by our short-term models, which predict a return to potential growth by the end of the year.
Number of pages
41p.
Language
English
Description
http://aei.pitt.edu/id/eprint/94671
Volume 4 No. 3
Publisher
European Commission
Publisher place
Brussels
Collections