European Economy. Quarterly report on the euro area 2005.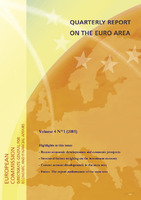 Author
Commision of the European Communities
Date
2005-01-01
View/Open
Abstract
The Spring European Council in Brussels last month reached two agreements that I believe will, if rigorously implemented, restore credibility to the functioning of the EU's system of economic governance, safeguard the stability of our public finances and instil new dynamism into our efforts to boost Europe's, and more specifically the euro area's economic performance. Firstly, the Heads of State and Government endorsed a report on the Stability and Growth Pact by the Council of Ministers for Economic and Financial Affairs that paves the way for a new consensus on the importance of sound and stability-oriented budgetary policies. Secondly, they agreed to re-launch the EU's economic reform agenda for growth and jobs without delay. I would like to take this opportunity to draw attention to some of the key elements in these important agreements.
Number of pages
42p.
Language
English
Description
Volume 4 No. 1
http://aei.pitt.edu/id/eprint/94669
Publisher
European Commission
Publisher place
Brussels
Collections