European Economy. Quarterly report on the euro area 2004.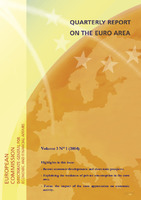 Author
Economic Policy Committee
Date
2004-06-01
Abstract
Following a period of stagnation, the euro area economy started to turn around in the middle of last year. In line with the scenario embodied in the Commission's Autumn 2003 Economic Forecast, recovery in the euro-area economy is slowly gaining momentum. Some recent economic indicators have, however, come in slightly below expectations. Together with the headline grabbing rise in the euro to above its introductory level 5 years ago, these have caused some anxiety about the euro-area's near term prospects. They have also rekindled memories of past recoveries having been slow and marred by temporary setbacks.
Number of pages
38p.
Language
English
Description
URI: http://aei.pitt.edu/id/eprint/94627
Publisher
European Commission
Publisher place
Brussels
Collections