CO2 model for operational programme assessment in EU regions: improved carbon management with EU regional policy : technical background and guidance for deployment in EU regions.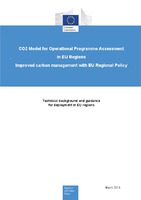 Author
Hekkenberg, M.
European Commission. Directorate-General for Regional Policy
Corporate name
European Commission / Directorate General for Regional Policy
Date
2013-03
Abstract
The CO2MPARE model enables national and regional authorities to assess the carbon impacts of Operational Programmes co-financed through the European Regional Development Fund (ERDF). This document provides technical background information and guidance for deploying the model in additional EU regions.
Number of pages
45 p.
Language
English
Publisher
Publications Office of the European Union
Collections
Related items
Showing items related by title, author, creator and subject.
Pucher, Jürgen

;

Gaspari, Enrico

;

European Union. Committee of the Regions

(

2013-04

)

The EGTC Monitoring Report corresponds to a yearly exercise of the Platform of the European Groupings of Territorial Cooperation (EGTC) of the Committee of the Regions of the EU, which is meant as a follow-up to Regulation ...

Λαδή, Στέλλα

(

International Centre for Black Sea Studies (ICBSS)

,

2008-12

)

This paper analyzes public administration reform in the member states of the Black Sea Economic Cooperation (BSEC). It argues that the values and practices of good governance are diffused through policy transfer networks ...

Goulet, Raphaël

(

Ευρωπαϊκή Ένωση. Περιφερειακή πολική

,

2008-06

)