The European Union: furthering human rights and democracy across the globe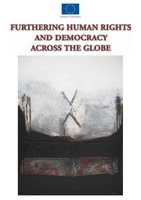 Author
European Union. European Commission. Directorate-General for External Relations.
Corporate name
European Commission / Directorate General for External Relations
Date
2007
View/Open
Abstract
This brochure presents an overview of the EU human rights and democratisation policy, including human rights promotion in the EU's legal system; tools and mechanisms under the Common Foreign and Security Policy (including EU human rights guidelines); the EIDHR funding (European Instrument for Democracy and Human Rights) as well as key thematic issues, such as fight against death penalty, torture and impunity; rights of the child and women; racism, xenophobia and protection of minorities as well as election assistance and observation
Number of pages
44 p.
Language
English
Publisher
Office for Official Publications of the European Communities
ISBN
92-894-6081-4