Anti-Americanism in Greece: reactions to the 11-S, Afghanistan and Iraq.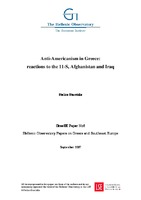 Author
Stavridis, Stelios
Corporate name
(Other)
Date
2007-09
View/Open
Abstract
Ever since the military junta rule in Athens in the late 1960s – early 1970s and especially following the Turkish invasion of part of Cyprus in 1974, Greece has shown strong signs of anti-Americanism. A phenomenon that is well-embedded in the Greek society, even if Greece is a member of the West (NATO but more importantly the European Union). This paper focuses on Greece's anti- Americanism in the aftermath of the 11th September 2001 mega-terrorist attacks. Why was Greece's reaction to that seminal event so different from other European countries? It also shows how deep anti-Americanism is by considering previous events, such as Greek reactions to the 1999 Kosovo War. The paper also stresses that nowadays there is no major difference between Right and Left in Greece's anti-American view. Moreover, if anything, anti- Americanism has strengthened since the 2003 Iraq invasion. Finally, it highlights a growing discrepancy between what Greek elites say and what, in particular, governmental elites do. Therefore, the paper calls for more systematic research on both subjects: of course on anti-Americanism but as importantly on the growing gap between government rhetoric and reality.
Language
English
Description
GreeSE Paper No6 Hellenic Observatory Papers on Greece and Southeast Europe. An earlier draft in Spanish ('Greek public opinion reactions to the 11 September 2001') was presented to the University Rovira i Virgili Workshop on "11-S, Five Years On" (30 November-1 December 2006, Tarragona).
Publisher
Hellenic Observatory, LSE
Collections