Natural Gas Corridors in Southeastern Europe and European Energy Security.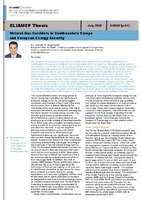 Author
Grigoriadis, Ioannis, Dr
Corporate name
European Commission / Directorate General for Energy and Transport
Date
2008-07
Abstract
The question of European energy security has brought attention to the strategic significance of Southeastern Europe as a transport hub of natural gas and a key region for European energy security. The questions how to secure natural gas quantities sufficient for increasing European needs and how to reduce energy dependency on Russia led to pipeline projects aiming to provide the European market with non-Russian natural gas. The TGI Interconnector and the Nabucco pipeline projects aspired to bring Azerbaijani, Iranian, Turkmen, Kazakh, Egyptian and even Iraqi natural gas to Europe. The TGI Interconnector also comprises an example of the paradigmatic shift that has characterised Greek- Turkish relations since the late 1990s. Russia's own regional pipeline project, the South Stream, was understood as a strategic move in the energy chessboard of Southeastern Europe, aiming to maintain Russia's dominant position in the market of Southeastern Europe and Europe in general. To meet increasing natural gas demand and reduce energy dependency on Russia, European authorities need to promote the realisation of projects contributing to the diversification of natural gas supply, alongside improving its relationship with Russia, two targets which are not necessarily mutually exclusive.
Language
English
Description
ELIAMEP Thesis 2/2008
Publisher
Eliamep
Citation
www.eliamep.gr/thesis
Collections