THE PUTIN LEGACY
Putin's Political Legacy
Putin's Economic Legacy
Putin's Foreign Policy Legacy
The World's View on Putin's Russia. Results of an International Opinion Poll.
Vladimir Putin's Central Asian Policy 2000–08: In Search of Security and Influence
The North and South Caucasus and Russia under Putin: Problems and Challenges.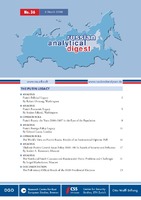 Author
Orttung, Robert
Åslund, Anders
Lucas, Edward
Kazantsev, Andrei
Markedonov, Sergei
Corporate name
European Commission / Directorate General for External Relations
Date
2008-03-04
Language
English
Description
No 36
Publisher
Russian Analytical Digest
Sponsorship
DGO. Research Centre for East European Studies, Bremen. Center for Security Studies, ETH Zurich. Otto Wolff -Stiftung.
Collections