TURKEY: What difference does the latest Foundations Law make?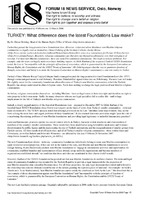 Corporate name
European Commission / Directorate General for Enlargement
Date
2008-03-13
Abstract
Turkey has passed the long-promised new Foundations Law. However, it does not allow Muslim or non-Muslim religious communities to legally exist as themselves, Otmar Oehring of the German Catholic charity Missio <http://www.missio-aachen.de/menschen-kulturen/themen/menschenrechte> notes in a commentary for Forum 18 News Service <http://www.forum18.org>. Bizarrely, religious communities are therefore not themselves allowed to own their own places of worship. For most non-Muslim communities, these are owned by community foundations. This leads to serious problems. For example, only the state can legally make even basic building repairs. As Dilek Kurban of the respected Turkish TESEV Foundation noted, the Law is "incompatible with the principle of freedom of association, which is guaranteed by the European Convention on Human Rights, the Constitution and the [1923] Treaty of Lausanne". Dr Oehring argues that the way to guarantee freedom of thought, conscience and belief is to make the European Convention on Human Rights' commitments a concrete reality in Turkey.
Language
English
Publisher
F18News
ISSN
1504-2855
Citation
http://www.forum18.org/Archive.php?article_id=1100
Collections