From linear thinking to green growth mindsets Vocational education and training and skills as springboards for the circular economy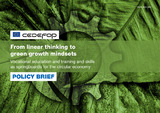 Author
European Centre for the Development of Vocational Training (Cedefop)
Date
2023-05
View/Open
Abstract
The linear 'take, make, waste' model, which took hold with the first industrial revolution and has powered economic development around the globe since then, has an enormous environmental and carbon footprint. Resource extraction, processing of materials and fuels, and food production account for an estimated 50% of greenhouse gas (GHG) emissions and are responsible for 90% of biodiver- sity loss and water stress (situations where water resources in a country or region do not meet needs) (European Commission, 2019). Mainstreaming and upscaling renewables to reduce the environmental footprint of energy production systems will cut 55% of current CO 2 emissions at most. Reducing the remaining 45% will require a fundamental change in how goods are made and used. The circular economy concept, which surfaced in economic circles for the first time in 1988 (Kneese, 1988), is a response to that challenge (Box 1)
Number of pages
26p.
Language
English
Description
Publication number 9184
Theme Skills and labour market
Cedefop green observatory
Cite as Cedefop (2023). From linear thinking to green growth mindsets: vocational education and training (VET) and skills as springboards for the circular economy. Luxembourg: Publications Office. http://data.europa.eu/doi/10.2801/813493
Publisher
Publications Office of the European Union
Publisher place
Luxembourg
ISSN
2529-3397
Collections
Related items
Showing items related by title, author, creator and subject.
European Commission. Directorate-General for Education and Culture

(

Publications Office of the European Union

,

2013

)

The 'Education and Training Monitor 2013' is a tool that will prove invaluable in facilitating decision-makers across Europe to reform their education systems, guaranteeing high-quality and equitable education and training ...

European Commission

;

Cachia, Romina

;

Velicu, Anca

;

Chaudron, Stephane

;

Di Gioia, Rosanna

;

Vuorikari, Riina

(

Publications Office of the European UnionLuxembourg

,

2021

)

This report maps the digital engagement of children aged between 6 and 12 years and the perceptions and practices of their parents, related to emergency remote schooling during and after the spring 2020 ...

Vignon, Jerome

(

Migration Advisor at the Jacques Delors InstituteFrance

,

2021

)

Avenues to endow the EU with a migration and asylum policy that lives up to its values Three years after its initial Report for a European Policy on Asylum, Migration and Mobility, the Jacques Delors Institute is ...