Recovery and resilience scoreboard. SME Support.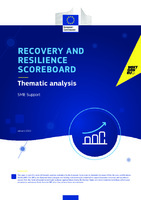 Author
European Commission
Date
2022-01
View/Open
Abstract
Small and medium-sized enterprises (SMEs) are the backbone of Europe's economy, representing 99% of all businesses in the EU, employing two thirds of the EU workforce and accounting for more than half of value added. They are adding value in every sector of the economy, from services to manufacturing, and innovation activity, and are central to the EU's twin transitions toward a sustainable and digital economy.
Number of pages
12p.
Language
English
Description
RECOVERY AND RESILIENCE SCOREBOARD Thematic analysis SME Support This paper is part of a series of thematic analysis undertaken by the European Commission to illustrate the impact of the Recovery and Resilience Facility (RRF). The RRF is the European Union's largest ever funding instrument and is intended to support European economies and societies to recover from the Covid-19 pandemic and build resilience against future shocks. EU Member States commit to implement ambitious reforms and investments and receive funds from the RRF when they achieve these commitments.
Publisher
Publications Office of the European Union
Publisher place
Luxembourg
Collections