Recovery and resilience scoreboard. Digital public services.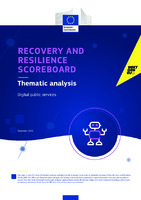 Author
European Commission
Date
2021-12
View/Open
Abstract
The digital public services policy area refers to the use of technology to provide services to citizens and businesses at local, regional and national levels; it encompasses different dimensions: e-government, the digital- isation of the healthcare and justice systems and, crucially from a climate policy perspective, the digitalisation of the transport and energy systems. The EU is working to help public administrations across Europe to make the change to digital so that the benefits of smart public services can be widely enjoyed.
Number of pages
21p.
Language
English
Description
This paper is part of a series of thematic analysis undertaken by the European Commission to illustrate the impact of the Recovery and Resilience Facility (RRF). The RRF is the European Union's largest ever funding instrument and is intended to support European economies and societies to recover from the Covid-19 pandemic and build resilience against future shocks. EU Member States commit to implement ambitious reforms and investments and receive funds from the RRF when they achieve these commitments.
Publisher
Publications Office of the European Union
Publisher place
Luxembourg
Collections