The EU Recovery and Resilience Facility: a jump to a resilient Europe?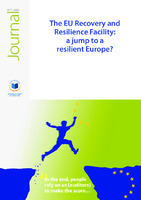 Author
EUROPEAN COURT OF AUDITORS
Date
2022-12
View/Open
Abstract
In times of crisis, the European Union's ability to find solutions is nothing short of impressive. It may take a while before the EU decision makers reach agreement, but the EU usually springs into action, e.g., take the 2008 financial crisis. For the EU, this was a crisis on many levels: banking, sovereign debt, euro, economic and a crisis of confidence. Most of these crises gave rise to a specific action: a banking union, financial support mechanisms, a fiscal union, the Euro 2020 growth strategy, and a specific political agenda. Alternatively, take this year's crisis, starting with Russia's invasion of Ukraine, triggering sanctions against Russia, financial support for Ukraine and even military support from the EU, something that many analysists would not have believed the EU capable of providing. At the risk of being accused of overusing the word 'crisis', I'd like to mention a previous crisis, one that affected everyone in the EU and also across the globe, relating to something that affects us all, namely health. Of course, I'm talking about the COVID-19 pandemic, which caused severe financial, economic and social fall-out. This also explains the scale of the EU's reaction, embodied in the NextGenerationEU initiative, with the Recovery and Resilience Facility (RRF) as its beating heart; for non EU experts, this is also known as the COVID recovery funds. Reaction response time to the 2008 crisis was measured in years, but the time it took to agree on the RRF was measured in months, starting in May 2020, and achieving agreement across the board in December 2020. This is an agreement that stands out for several reasons, specifically: size – almost €724 billion; speed – financing reforms and investments through to 2026; delivery mechanism – focusing on performance as a condition for financing, and other conditions, such as those relating to the rule of law; coverage – six pillars to address various policy areas, notably greening and digitalisation; and financing – under the EU umbrella, allowing the EU to operate as a sovereign lender, with the EU budget as guarantee
Number of pages
182p.
Language
English
Description
No2, 2022
QJ-AD-22 002-2A-N
Publisher
European Union
Publisher place
Luxembourg
Collections