The regional gender equality monitor Measuring female disadvantage and achievement in EU regions.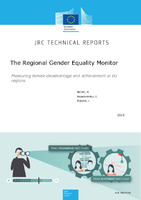 Author
Joint Research Centre (European Commission)
Dijkstra, L . L
Norlén, H.
Papadimitriou, E.
Date
2019-09-18
View/Open
Abstract
Gender equality is one of the fundamental values of the European Union and the European Pillar of Social Rights establishes it as one of its key principles. While there are several measures of gender equality at country level there is none that capture regional differences in Europe. This new regional gender equality monitor consists of two composite indices that address two specific and complementary aspects of this multifaceted phenomenon. The first index assesses the female disadvantage by measuring regional differences when females are doing worse than males. The second index measures the female level of achievement compared to the best regional performance. Viewing together the two indices facilitates the understanding of where women are at disadvantage and where they are performing well across the different regions and between the Member States. The indices are called the Female Disadvantage Index (FemDI) and the Female Achievement Index (FemAI). The regional monitor for the EU builds on seven domains: 1) Work & Money, 2) Knowledge, 3) Time, 4) Power, 5) Health, 6) Safety, Security & Trust and 7) Quality of Life. The domains organise and aggregate over 30 individual indicators into the two summary measures of gender equality. The indices capture female disadvantage and achievement in 270 regions (NUTS2 level). The latest available data for the indicators have been retrieved from the European Union Statistics on Income and Living Conditions (EU SILC) microdata, European Union Labour Force Survey (EU LFS), Structure of Earnings Survey (EU SES), EIGE Gender Statistics Database and the Gallup World Poll microdata. Most data points refer to 2017. The two indices reveal significant differences within Member States. For example, women in capital regions tend to achieve more, but also tend to feel less secure and safe than in the other regions in the country. These two dimensions of gender equality are also linked to regional development. In more developed regions women tend to achieve more and be at a lower disadvantage. While the high level of female achievements in many of the Nordic regions does not come as a surprise, the pronounced female disadvantage in less developed regions is striking. In regions with low incomes and low employment rates, any additional income or job should be a big benefit. But exactly in these regions, women are far less likely to work, have less free time and they are also at more of a disadvantage in terms of education and training. Political positions in less developed regions are predominantly held by men. This means female experiences are less likely to be considered when designing public policies. Having more women in power is also linked to a higher quality of government, which in turn helps to boost innovation, growth and quality of life. Reducing the disadvantage women face will help everyone. It would increase what women can achieve, boost development and income, improve the quality of government and enhance life satisfaction.
Number of pages
86p.
Language
English
Description
This publication is a Technical report by the Joint Research Centre (JRC), the European Commission's science and knowledge service. It aims to provide evidence-based scientific support to the European policymaking process. The scientific output expressed does not imply a policy position of the European Commission. Neither the European Commission nor any person acting on behalf of the Commission is responsible for the use that might be made of this publication.
doi:10.2760/472693
Publisher
Publications Office of the European Union
Publisher place
Luxemburg
ISBN
978-92-76-00594-0