Industrial Production: man-made fibres, textiles, clothing, pulp, paper and board.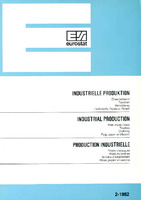 View/Open
Abstract
The production statistics in physical units presented in this issue were collected by Eurostat from the Member States' national statistical institutes. The data are compiled in accordance with common definitions in order to ensure comparability at Community level. The reader is urged to consult the classification plan which gives the complete description of each product and to take due account of the notes at the end of the volume. The data are stored in Eurostat's CRONOS data bank and accessible via the EURONET network. Downloaded from EU Bpokshop.
Number of pages
88p.
Language
English
French
German
Description
Downloaded from EU Bpokshop.
http://aei.pitt.edu/id/eprint/71597
Kat./cat. : CA-BL-82-002-3A-C
2-1982
Publisher
Office des publications officielles des Communautés européennes.
Publisher place
Luxembourg
Collections