Industrial Production: Miscellaneous sectors.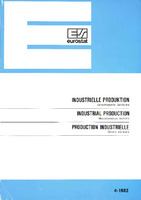 View/Open
Abstract
Through this new publication, the SOEC is resuming dissemination of production statistics by product in physical units,which were previously published in the "Quarterly Industrial Production Bul= letin" (the last issue was 3/4-1978). The data originate from national statistical institutes and from international and professional organizations. Product definitions often vary from one country to the next. The reader is urged to consult the classification plan which gives the complete descrip= tion of each product and to take due account of the notes at the end of the volume. This issue does not include products from specific industrial sectors for which harmonized and more exhaustive statistics are gathered by the SOEC from the national statistical institutes. Data on the sectors concerned (man-made fibres,textile products, wearing apparel, leather, footwear, pulp, paper and board, office machinery and data processing equipment, and domestic electrical appliances) are published in "Industrial Production nr. 3-1982".
Number of pages
116p.
Language
English
French
German
Description
Manuscript completed in January 1983
4-1982
Kat./cat. : CA-BL-82-004-3A-C
Publisher
Office des publications officielles des Communautés européennes.
Publisher place
Luxembourg
Collections