Statistics in Focus: Population and social conditions. MINIMUM WAGES EU Member States and Candidate Countries, January 2003.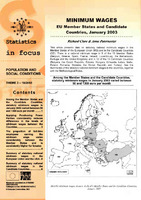 Author
Eurostat
Paternoster, Anne
Clare, Richard
Date
2003
View/Open
Abstract
This article presents data on statutory national minimum wages in the Member States of the European Union (MS) and in the Candidate Countries (CC). There is a national minimum wage in 9 of the 15 Member States (Belgium, Greece, Spain, France, Ireland, Luxembourg, the Netherlands, Portugal and the United Kingdom) and in 12 of the 13 Candidate Countries (Bulgaria, the Czech Republic, Estonia, Hungary, Lithuania, Latvia, Malta, Poland, Romania, Slovenia, the Slovak Republic and Turkey). See the Summaries of the statutory national minimum wages in the countries, together with the Methodological Notes
Number of pages
8p.
Language
English
Description
Downloaded from EU Bookshop.
EUROSTAT:THEME 3:STATISTICS IN FOCUS/RAPID REPORTS:Industry and Services: Labour Market; Costs; Earnings; Wages; Working Conditions, etc.
Publisher
Eurostat
Publisher place
Luxemburg
ISSN
1024-4352
Collections