Realising European added value, Pursuing a destiny sharedin common.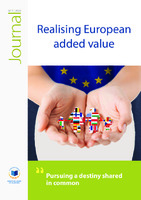 Author
European Court of Auditors
Date
2020-03
View/Open
Abstract
uropean added value has been on our list of 'must do' topics for the ECA journal for quite some time. And this should not come as a surprise. Because the theme touches on the essence of what the European Union stands for: that the sum of the actions taken together will lead to better overall results for the participants than their individual actions can yield, and the belief that stronger collective action and shared sovereignty will therefore be beneficial for the Member States and their citizens. Over the last seventy years, cooperation between Member states has taken off in almost any area you can think of, with security, economies of scale and cross border benefits as the main drivers. As a result, today's European Union is more integrated than ever, and matters more for our daily lives than most people realise. But at the same time, the EU has become more complex. This rise in complexity is also reflected in the discussions about the concept of European added value (we will use this and the term 'EU added value' interchangeably throughout this Journal, although, strictly speaking, there is a difference). The first five articles of this Journal highlight important historical, economic, legal and political aspects that come into play when discussing European added value – clearly a multi-faceted concept. About twenty years ago, I propagated the thesis that the EU works best if the citizen does not notice it. If you go shopping in another EU Member State, you will not notice it since you have the euro as a common currency; if you fall sick abroad, no worry – your national health care system also covers you in another EU Member State; if you want to take up a job somewhere else or continue your education, your qualifications will be recognised. And there are many other benefits, for both consumers and producers in the EU's single market: common standards, such as in food safety or the CE label for product security, just make our lives easier. But there are still many areas where the EU does not yet work well, and one may question whether it really adds value. This can be on small things, for example if you cannot buy travel insurance because you are not a resident of the Member State where you book your vacation. Or on bigger issues, such as security or migration, where Member States still need to agree on a common approach. Or most recently with the fight against the Covid-19 pandemic, when coordinating efforts by the European Commission were at times undermined by a lack of solidarity between Member States. Finally, there is also a growing group of citizens who are sceptical about the European Union. The very idea of EU added value may have been largely undisputed some years ago, but this is no longer the case. The clearest manifestation of this phenomenon has been the lost referendum on the UK's membership of the European Union. Maybe ironically, 'Brexit' has rejuvenated the idea of EU added value and interest in membership or the perks of it has not waned (see pages 99 and 161). No doubt the remaining 27 Member States will closely monitor the socio-economic consequences of the UK's withdrawal in the coming years.The idea of European added value as a remover of burdens easily gets snowed under when EU finances come into the picture. Incidentally, this year, the EU has to decide on its long term budget for the 2021-2027 period. During these negotiations, not much consideration is given to EU added value: instead the focus is on financial benefits and burdens, and outright 'pork barrel' practices to secure EU funds for a specific Member State or region. This money is then not necessarily spent on projects with the highest potential to add value – leading to money seeking projects instead of projects seeking money, with risks such as 'deadweight' and 'goldplating' (see page 78) and potentially detrimental effects on citizens' perception of the European added value of these projects. And rightly so. This year's negotiations have shown again that the simple 'zero sum' approach remains a dominant element in the European added value discussion when it comes to financial matters. Budget figures do not explain how much added value the EU generates, whether it strengthens the economy, makes a country healthier, or a more pleasant place to live, work and travel. And how do you quantify adherence to the rule of law as an enabler underpinning the smooth functioning of the single market?
Number of pages
219p.
Language
English
Description
No 3, 2020
https://www.eca.europa.eu/Lists/ECADocuments/JOURNAL20_03/JOURNAL20_03.pdf
Publisher
European Commission
Publisher place
Luxembourg
Collections