Short-term trends. Unemployment. Registered unemployment in the Community. December 1986. 1986.12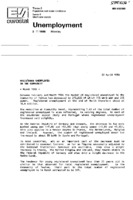 View/Open
Abstract
At the end of 1986, the number of persons registered as unemployed at employment offices in the Community of the Twelve stood at 16,4 million, higher than any previou$ly-recorded December figure. The total comprised 9,2 million men and 7,2 million women. The rise of almost 257 000 in the number of unemployed persons in the Community compared with the previous month was due almost entirely to seasonal factors. In 1986 the average number of registered unemployed in the Community was 16,1 million, compared with 15,9 million in 1985, an increase of 1 ,6%. In fact, only female unemployment showed a rise (+5,2%), whereas male unemployment fell slightly (-0,7%).
Number of pages
12p.
Language
English
French
Description
Multilingual in English and French. Text is faded/light in some places.
http://aei.pitt.edu/id/eprint/86515
This monthly bulletin was prepared by the division 'Employment and labour force sample survey'.
Publisher
Office for Official Publications of the European Communities
Publisher place
Luxembourg
ISSN
0252-9920
Collections