Short-term trends. Unemployment. Registered unemployment in the Community. 1986.1/2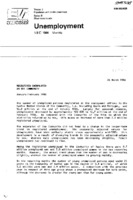 View/Open
Abstract
The number of unemployed persons registered at the employment offices· in the twelve Member States of the Community, i.e. including Spain and Portugal, was 16.8 mill ion at the end of January 1986. Largely for seasonal reasons, unemployment decreased by approximately 100 000 to 16,7 million at the end of February 1986. As compared with the Community of the Nine to which the statistics related up to now, this means an increase of more than 3.3 million registered unemployed. The expansion of the Community did not lead to a change in the longer-term trend in registered unemployment. The seasonally adjusted values for unemployment have been markedly stable since approximately mid-1985. This development is a result of diverging trends in the seasonally adjusted.values by sex. Whereas male unemployment has been decreasing slightly, · female unemployment has continued to rise.
Number of pages
12p.
Language
English
Description
Multilingual in English and French. Text is faded/light in some places.
This monthly bulletin was prepared by the division 'Employment and labour force sample survey'.
Publisher
Office for Official Publications of the European Communities
Publisher place
Luxembourg
ISSN
0252-9920
Collections