Monthly Bulletin. Employment. Monthly statistics of registered unemployed in the Community. 1984.6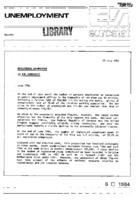 View/Open
Abstract
At the end of last month the number of persons registered as unemployed at public employment offices in the Community of the Nine was 12 million, following a further fall of 150.000 (-1.2%) during the month, g1v1ng an unemployment rate of 10.6X of the civilian working population. The de-cline in the number of unemployed men <-1.8X) was sharper than that of unemployed women <-0,4X). As shown by the seasonally adjusted figures, however, the labour market situation for the Community of the Nine remains the same. National cal-culations for France, the Federal Republic of Germany and the United Kingdom suggest continuing slightly rising tendencies, and only the Netherlands reports a visible decline in the seasonally adjusted figures. At the end of June 1984, the number of registered unemployed under 25 years of age in the Community of the Nine was 4.5 million, or 37.7X of all registered unemployed. Compared with the previous year, this proportion has remained unchanged; in other words, youth unemployment increased between June 1983 and June 1984 to the same extent as overall unemployment (+5.5%). A clear decline in the number of registered young unemployed as been recorded in Belgium and Luxembourg (-8X to -9X) as well as in Denmark (-6X) and the Netherlands (just under -2X). However, any assessment of these figures must take account of the effects of national measures relating to registration and job creation schemes.
Number of pages
14p.
Language
English
Description
http://aei.pitt.edu/id/eprint/85098
NOTE: More detailed information on unemployment is contained in the yearly publication 'Employment and unemployment'. This monthly bulletin was prepared by the division 'Employment and labour force sample survey'.
Publisher
Eurostat
Publisher place
Luxembourg
ISSN
0252-9920
Collections