Monthly Bulletin. Employment. Monthly statistics of registered unemployed in the Community. 1984.11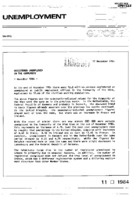 View/Open
Abstract
At the end of November 1984 there were 12.8 million persons registered as unemployed at public employment offices in the Community of the Nine, equivalent to 11.4X of the civilian working population. The above figures and the seasonally-adjusted values for the Community of the Nine were the same as in the previous month. In the Netherlands, the Federal Republic of Germany and probably in Denmark, the downward trend in these figures already apparent over the previous few months continued. In the United Kingdom, the seasonally-adjusted unemployment figures stayed more or less the same, but there was an increase in France and Ireland.
Number of pages
12p.
Language
English
Description
http://aei.pitt.edu/id/eprint/85104
NOTE: More detailed information on unemployment is contained in the yearly publication 'Employment and unemployment'.
Publisher
Office for Official Publications of the European Communities
Publisher place
Luxembourg
Collections