Statistical bulletin. Employment and unemployment. Employment Trends in 1982 in the European Community. 1983.3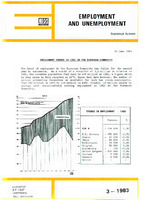 View/Open
Abstract
The level of employment in the European Community has fallen for the second year in succession. As a result of a reduction of 1,2 million in relation to 1981, the occupied population fell back to 108 million in 1982, a figure which is very close to that recorded in 1970. Since that date however, the number of persons presenting themselves as available for work has risen continually, from 110 million in 1970 to 118 million in 1982. Finally, 10 million people on average were unsuccessfully seeking employment in 1982 in the European Community.
Number of pages
26p.
Language
English
Description
http://aei.pitt.edu/id/eprint/86429
More detailed information on unemployment is contained in the yearly publication 'Employment and unemployment'. This monthly bulletin was prepared by the division 'Population, employment, education and general social statistics'.
Publisher
Office for Official Publications of the European Communities
Publisher place
Luxembourg
Collections