Monthly Bulletin. Employment. Monthly statistics of registered unemployed in the Community. 1983.8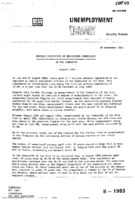 View/Open
Abstract
At the end of August 1983, there were 11.7 million persons registered as un-employed at public employment offices in the Community of the Nine. This represents an unemployment rate among the civilian working population of 10.4%, a slight rise over the 10.3% recorded in July 1983. Despite this further increase in unemployment in the Community of the Nine, certain signs appear to indicate a degree of stabilization in its level. The seasonally-adjusted figures for total unemployment have remained virtually unaltered for the past five months. However, as the seasonally-adjusted figures broken down by sex show, unemployment trends over the same period are different for men and women. While unemployment among men would appear to be dropping slightly, that among women is rising somewhat.
Number of pages
14p.
Language
English
Description
http://aei.pitt.edu/id/eprint/85088
More detailed information on unemployment is contained in the yearly publication 'EUROSTAT-Employment and Unemployment'. This monthly bulletin was prepared by the division 'Population, employment, education and general social statistics'.
Publisher
Office for Official Publications of the European Communities
Publisher place
Luxembourg
Collections