Monthly Bulletin. Employment. Monthly statistics of registered unemployed in the Community.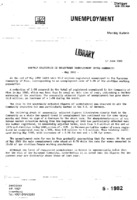 View/Open
Abstract
At the end of May 1982 there were 10.2 million registered unemployed in the European Community of Nine, corresponding to an unemployment rate of 9.2% of the civilian working population. A reduction of 1.6% occurred in the total of registered unemployed in the Communityof Nine in May 1982, which was less than is usual at this time of year, indicating a further worsening of the position. The seasonally adjusted figure of unemployment has gone above 10;8 million, an increase of + 1.6% during the month. The rise in the seasonally adjusted figures of unemployment was observed in all the Community countries but was particularly marked in the F.R. of Germany.
Number of pages
14p.
Language
English
Description
http://aei.pitt.edu/id/eprint/85073
More detailed information on unemployment is contained in the yearly publication 'EUROSTAT-Employment and Unemployment'. This monthly bulletin was prepared by the division 'Population, employment, education and general social statistics'.
Publisher
Office for Official Publications of the European Communities
Publisher place
Luxembourg
Collections