Statistics in Focus: Population and social conditions. Work-related health problems in the EU 1998-1999.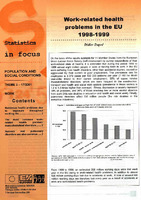 View/Open
Abstract
On the basis of the results available for 11 Member States from the European Union Labour Force Survey (self-assessment by survey respondents of their work-related state of health), it is estimated that during the period 1998 to 1999 almost eight million people In work or having been in work in the EU were suffering from health disorders, other than accidental injuries, caused or aggravated by their current or past employment. The prevalence rate for employees is 5 372 cases per 100 000 persons per year (7 150 for 55-64 year-olds) linked to their current employment. 53% of cases involve musculoskeletal disorders, which are more frequent in the construction, transport and health and social work sectors (prevalence in these sectors is 1.2 to 1.6 times higher than average). Stress, depression or anxiety represent 18% of problems, and 26% of those Involving two or more weeks' absence from work (this rate doubles in education and health and social work). Finally, pulmonary disorders affect 0.6 million people (the risk doubles in the extractive industries).
Number of pages
4p.
Language
English
Description
http://aei.pitt.edu/id/eprint/85246
Downloaded from EU Bookshop.
Publisher
Eurostat
Collections