Communication from the commission to the European Parliament, the council, the European Economic and Social Committee and the Committee of the Regions, on a New Pact on Migration and Asylum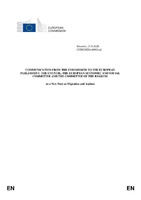 Author
European Commission
Date
2020-09-23
View/Open
Abstract
Migration has been a constant feature of human history with a profound impact on European society, its economy and its culture. With a well-managed system, migration can contribute to growth, innovation and social dynamism. Key societal challenges faced bythe world today –demography, climate change, security, the global race for talent, and inequality –all have an impact on migration. Policy imperatives such as free movement in the Schengen area, safeguarding fundamental rights, ensuring security, and filling skills gaps, all call for an effective migration policy. The task facing the EU and its Member States, while continuing to address urgent needs, is to build a system that manages and normalises migration for the long term and which is fully grounded in European values and international law.
Number of pages
29p.
Language
English
Description
COM(2020) 609 fina
Publisher
European Commission
Publisher place
Brussels
Collections
Related items
Showing items related by title, author, creator and subject.
European Commission. Directorate General for Employment, Social Affairs and Inclusion

;

European Union. European Commission. Directorate General for Press and Information.

(

European Commission

,

2013-11

)

European Union. European Centre for the Development of Vocational Training.

(

Publications Office of the European Union

,

2008

)

European Union. European Commission. Directorate-General for External Relations.

(

Office for Official Publications of the European Communities

,

2007

)

This brochure presents an overview of the EU human rights and democratisation policy, including human rights promotion in the EU's legal system; tools and mechanisms under the Common Foreign and Security Policy (including ...