European Community competition policy 1996.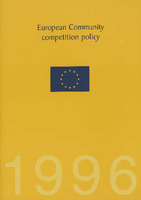 Author
European Community competition policy
Date
1996
View/Open
Abstract
In 1996, as a result of the globalization of trade and the internationalization of economic phe-nomena, there continued to be a considerable need for adjustment of the structures of the European economy. In a rapidly changing world environment characterized by four main factors — the speeding-up of technical and scientific progress; population growth in the developing countries; the increase in the production of goods and services; and the intensification of trade in goods and of capital movements — the policy of the European Union, and more partic-ularly Community competition policy, seeks to promote the indispensable adaptation of the Community economy to this new situation
Number of pages
92p.
Language
English
Description
Sections are bookmarked.
Summary of the annual report
http://aei.pitt.edu/id/eprint/42137
Publisher
EU Commission
Publisher place
Luxembourg
ISBN
92-828-0298-1
Collections