European Community competition policy 1994.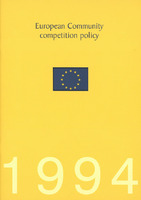 Author
European Community competition policy
Date
1994
View/Open
Abstract
In 1994 the Commission placed two objec-tives at the heart of its enforcement of com-petition policy: consumer protection on the one hand, and employment and competitive-ness on the other. In the final analysis, all the various elements that make up the Community's competition policy have the aim of protecting EU citi-zens: citizens as consumers, as employees and employers, and as shareholders. Thus, for example, agreements fixing prices and quotas, or artificially dividing the Commu-nity with the objective of preventing compe-tition, result in increased prices and reduced choice for the consumer. Indeed, such agree-ments prejudice the basic aims of the Com-munity in establishing the common market in the first place: a wider market and more choice. The same holds true where com-panies abuse a dominant position by, for example, artificially excluding competitors
Number of pages
56p.
Language
English
Description
http://aei.pitt.edu/id/eprint/42136
Publisher
Office for Official Publications of the European Communities
Publisher place
Luxembourg
ISBN
92-827-0265-0
Collections