Study on oil refining in the European Community. Executive summary and main report.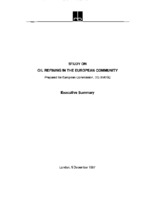 Author
Commision of the European Communities
Date
1997-12-05
View/Open
Abstract
In 1996 the Commission published a 'Report on the Situation of Oil Supply, Refining and Markets in the European Community', (COM(96)143). This report drew attention to the over-capacity and poor profitability of the refining industry in Europe. With the strategic importance of refining in mind, DG XVII of the European Commission appointed Roland Berger and Partner to carry out the present study to better understand the reasons for continued low profitability in the industry; to examine whether this represents a threat to the public interest in the EU; and, to suggest possible solutions. The Terms of Reference are set out in detail in the companion volume of Appendices to this report. This study is presented in three booklets, this Executive Summary, the Main Report, and Appendices. The Terms of Reference are set out in detail in the Appendices.
Number of pages
144p.
Language
English
Description
Sections are bookmarked.
http://aei.pitt.edu/id/eprint/36898
Publisher
EU Commission
Publisher place
Brussels
Collections