The operation of Council Directive 90/377/EEC concerning a Community procedure to improve the transparency of gas and electricity prices charged to industrial end-users. Report from the Commission to the Council and the European Parliament submitted by the Commission pursuant to Article 8 of Council Directive 90/377/EEC of 19 June 1990.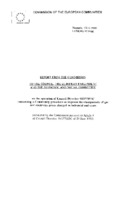 Author
Commision of the European Communities
Date
1996-03-15
View/Open
Abstract
This summary report on one hand the operation of the Price Transparency Directive is the second of its kind<•>. It analyses implementation of Council Directive 90/377/EEC of 29 June 1990 and on the other hand it compares price evolution. It was written to comply with Article 8 of the Directive. Part One of this report, concerning implementation of the Directive, describes the difficulties encountered by the Commission with its application. The Member States will be asked individually to improve the conditions for collecting the data to ensure full compliance with the submission dates. The increasing number of countries participating in the survey makes it less and less acceptable for negligence or tardiness on the part of a single Member State to block publication of the results.
Number of pages
51p.
Language
English
Description
COM (96) 92 final
http://aei.pitt.edu/id/eprint/6219
Publisher
EU Commission
Publisher place
Brussels
Collections