The market for solid fuels in the Community in 1993 and the outlook for 1994. Report from the Commission.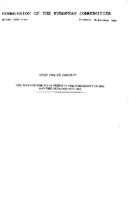 Author
Commision of the European Communities
Date
1993-11-16
View/Open
Abstract
This preliminary report analyses the forecasts for 1998 and 19D1 prepared by the Member States and forwarded to the Commission in November 1998. Its purpose is to provide tho ECSC Consultative Committee and the circles concerned with the most up-to-date information on the developments in tho Community solid fuels market. A new report on the market for .solid fuels in tho Community in 1D!):3 and the outlook for 1!)!)1 will hn drawn up during tho fir.st quart.or of 1!)!).1. The information contained in this document, unless specified to tho contrary, does not cover the now German L.iinder since the necessary data, in particular the forecasts for 1994, are largely unavailable
Number of pages
14p.
Language
English
Description
SEC (93) 2073 final
http://aei.pitt.edu/id/eprint/3592
Publisher
EU Commission
Publisher place
Brussels
Collections