The market for solid fuels in the Community in 1988 and the outlook for 1989.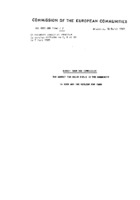 Author
Commision of the European Communities
Date
1989-03-10
View/Open
Abstract
Article 46 of the ECSC Treaty provides that the Commission ohal I, In order to provide guidance on tho course of action to be followed by al 1 concerned and to determine Its own course of action: "conduct a continuous study of market and price trends".
Number of pages
71p.
Language
English
Description
Report from the Commission.
SEC (89) 280 final/2
Publisher
EU Commission
Publisher place
Brussels
Collections