The market for solid fuels in the Community in 1985 and the outlook for 1986.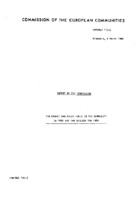 Author
Commision of the European Communities
Date
1986-03-04
View/Open
Abstract
The adhesion of Spain and Portugal (with a solid fuel production equivalent to 18 million tons of coal and a consumption of 30 million tons> strengthens the Community's coal potential. In 1986 tenance 324 mt, lignite the continuation of the recovery in Britain and the main-of imports from third countries should bring coal supply to a level attained for the Ten in 1979-1982 ; production of and peat should fall slightly.
Number of pages
53p.
Language
English
Description
Report of the Commission.
COM (86) 115 final/2, 4
Publisher
EU Commission
Publisher place
Brussels
Collections