Bulletin Statistique (CECA)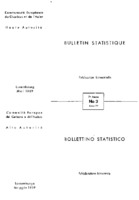 View/Open
Number of pages
409p.
Language
English
French
Italian
Description
= Bollettino Statistico (CECA) = Statistical Bulletin (ECSC)
http://aei.pitt.edu/id/eprint/38735
Sections are bookmarked. An annex to this document called "Tableau comparatif des conditions de travail dans les industries de la Communauté = Comparative table of working conditions in the industries of the Community" can be found in this archive at http://aei.pitt.edu/36277.
Publisher
EU Commission
Publisher place
Luxembourg
Collections