Eighth report on the activities of European Social Fund 1980 financial year. Supplement to report: national reports on the activities of the European Social Fund in the Communty countries.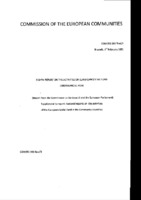 Author
Commision of the European Communities
Date
1981-02-06
View/Open
Abstract
Article 5 of the conunission Decision of 27 July 1978 on certaina&ninistrative pnocedures for the operation of the European socialFund, pursuant to Article 13 of Regulation (nnc) No 2396/71 amendedby Regulation (EEc) No zggl/77 Q,), states that ,,on the basis of anoutl-ine prepared by the Conrni-sslon and forwarded to the mecnber statesbefore 1 Januarlz, membr states shal-l forward to the Conrnission notlater than 31 March of ttre same year, a sumnary report of the resultsof operati-ons carried out with assistance from the European socialF\rnd in the previous financial year".
Number of pages
112p.
Language
English
Description
Sections are bookmarked.
COM (80) 365 final/3
http://aei.pitt.edu/id/eprint/15579
Publisher
European Commission
Publisher place
Brussels
Collections