The second annual report on the activities of the new European Social Fund. Financial year 1973.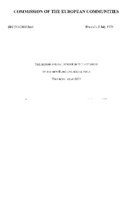 Author
Commision of the European Communities
Date
1973-07-03
View/Open
Abstract
The Social Fund, created under the Treaty of Rome (Article 123 and seq.), undenvent a substantial reform in 1971, the essential elements of which are set out in Council Decision no 71/66. The purpose of these re-forms was to transform the Fund into an u1strument of a more active employment policy and to link it more effectively with Co~~unity policy objectives. A yearly report is to be drawn up on these operations of the Fund (1). The first report produced by the Commission in Sept ember 1973, out lined the major points contained in the new regulations and described in brief . the operations undertaken during the first period of implementation (M~ -December 1972).
Number of pages
65p.
Language
English
Description
SEC (74) 2400 final
http://aei.pitt.edu/id/eprint/3921
Publisher
European Commission
Publisher place
Brussels
Collections