Expose sur l'evolution de la situation sociale dans la Communaute en 1960 (joint au Quatrieme rapport general sur l'activite de la Communaute). aout 1961 = Report on the development of the social situation in the Community in 1960 (annex to the Fourth general report on the activities of the Community).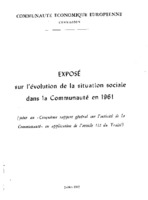 Author
Commision of the European Communities
Date
1962-07
Abstract
Bien que le rytbme d.e ltexpansion se soit plus ou rooins sen-siblenent ralentir ea 1961, dano ra plupart des pays de la connrunaut6,Itessor conjoncturel a 6t6 n6aruloins suffisanqent uarqu6 pour quruneaette progression de Ia production et des revenus ait 6t6 encoreg6n6ralenent enregistr6e. En rtalie m6me, les r6sultats d6ji bril-lants de lrann6e pr6c6dente ont 6t6 encore d,6pass6e, de sorte que cepay6 se place d6sornais i Ia poiate de lressor conmunautaire, et avecles neilleures chances dry rester.
Number of pages
454p.
Language
French
Description
http://aei.pitt.edu/id/eprint/32211
Chapters are bookmarked.
Publisher
European Commission
Publisher place
Brussels
Collections