Expose sur l'evolution de la situation sociale dans la Communaute en 1959. (joint au Troisieme rapport general sur l'activite de la Communaute). juin 1960 = Report on the development of the social situation in the Community in 1959. (annex to the Third general report on the activities of the Community).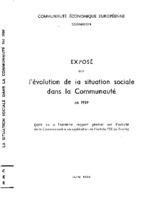 Author
Commision of the European Communities
Date
1960-06
Abstract
Le prisent o Exposti sur l'evolution de la situationsociale > traite des faits et des ddveloppements ldgislatifs les plusimportants qui ont marqud, dans le domaine social, l'annde 1959.On s'est ecartd sensiblement, pour la prdsentation deplusieurs questions, du plan qui avait dtd suivi pour les expostisprdcddents. D'une part, les differents aspects de la ldgislationsociale sont ddsormnis traitds dans les chapitres consacrds auxdomaines qu'elle intdresse en propre. D'autre part, deux chapitresse sont substitutis d I'ancien chapitre < Ldgislation sociale, actionsyndicale, structure et dvolution des salaires r, I'un traitant, demaniire plus approfondie qu'on n'avait dtd en mesure de le fairejusqu'ici, des salaires, du cofit de la vie, de la durde du travailet de la productivite, I'sutre, des relations professionnelles et deI'action syndicale
Number of pages
379p.
Language
French
Description
Chapters are bookmarked.
http://aei.pitt.edu/id/eprint/32209
Publisher
European Commission
Publisher place
Brussels
Collections