2007 Annual report on Phare, Turkey pre-accession, Cards and transition facility. Report from the Commission to the Council, the European Parliament and the Economic and Social Committee.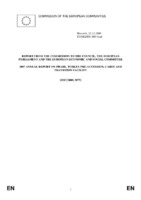 Author
Commision of the European Communities
Date
2008-12-12
View/Open
Abstract
Since 2007, EU pre-accession funding has been channelled through a single instrument, the Instrument for Pre-accession Assistance (IPA), designed to deliver focused support to both candidate and potential candidate countries. IPA supersedes five previous EU financial instruments - Phare1, ISPA2, SAPARD3, the Turkey pre-accession instrument4 and CARDS5. This report deals with the implementation of Phare, Turkey pre-accession instrument, CARDS and Transition Facility6 programmes during the year 2007. It should be noted that as 2006 was the final programming year under Phare, the Turkey pre-accession instrument and CARDS, no new programmes under these instruments were launched in 2007. The 2007 programming for candidate and potential candidates took place under the new instrument IPA, and it will be reported on through the 2007 annual IPA report, as foreseen in the IPA regulation 1085/2006 (Art. 13(6)). The objectives of Phare pre-accession assistance were: to assist candidate and acceding countries in their efforts to strengthen their public administrations and institutions to function effectively inside the European Union; to promote convergence with the European Community's legislation; to reduce the need for transition periods; and to promote Economic and Social Cohesion (ESC). The object of the CARDS programme was to support the participation of the countries of the Western Balkans (Albania, Bosnia and Herzegovina, Croatia, the former Yugoslav Republic of Macedonia, Montenegro and Serbia, including Kosovo under UNSCR 1244/99 in the Stabilisation and Association process (SAp). This process seeks to promote stability within the region whilst also facilitating closer association with the European Union. This report also contains information on the Transition Facility for new Member States which was introduced to allow for the continuation of institution building support with a view to strengthening and consolidating institutional and administrative capacity to implement the acquis communautaire.
Number of pages
9p.
Language
English
Description
Related document: SEC (2008) 3075 final.
http://aei.pitt.edu/id/eprint/45571
COM (2008) 880 final
Publisher
European Commission
Publisher place
Brussels
Collections