Regular report from the Commission on Turkey's progress towards accession 2005.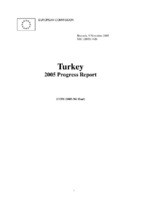 Author
European Commission
Date
2005-11-09
View/Open
Abstract
Following the conclusions of the Luxembourg European Council in December 1997, the Commission has reported regularly to the Council and the Parliament on progress made by the candidate states in preparing for membership. This Progress Report succeeds the reports that the Commission has published on Turkey during the years 1998 to 2004. In December 2004, the European Council stated that: "The European Council welcomes the decisive progress made by Turkey in its far-reaching reform process and expressed its confidence that Turkey will sustain that process of reform[...]. Turkey sufficiently fulfils the Copenhagen criteria to open accession negotiations [...]. The European Council invites the Commission to present to the Council a proposal for a framework for negotiations with Turkey with a view to opening negotiations on 3 October 2005." The European Council in June 2005 referred to its conclusions on enlargement of December 2004 and highlighted the need to implement them fully.
Number of pages
146p.
Language
English
Description
SEC (2005) 1426 final
http://aei.pitt.edu/id/eprint/44627
Sections are bookmarked. Related document: COM (2005) 561 final.
Publisher
European Commission
Publisher place
Brussels
Collections