2005 Enlargement strategy paper. Impact assessment. Commission staff working document annexed to the paper.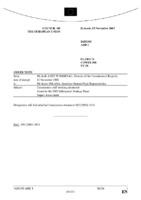 Author
Council of the European Union
Date
2005-11-09
View/Open
Abstract
Enlargement policy is outside the realm of the Commission's right of initiative and therefore not a policy which the Commission can, strictly speaking, propose on the basis of policy options and impact assessments. The Treaty on European Union and the Copenhagen criteria set the framework for the entire enlargement process and narrow down the assessment criteria that can be used to assess the present or future impacts of implementation of this policy.
Number of pages
6p.
Language
English
Description
Related document: COM (2005) 561 final.
SEC (2005) 1433 final
http://aei.pitt.edu/id/eprint/44647
Publisher
European Commission
Publisher place
Brussels
Collections